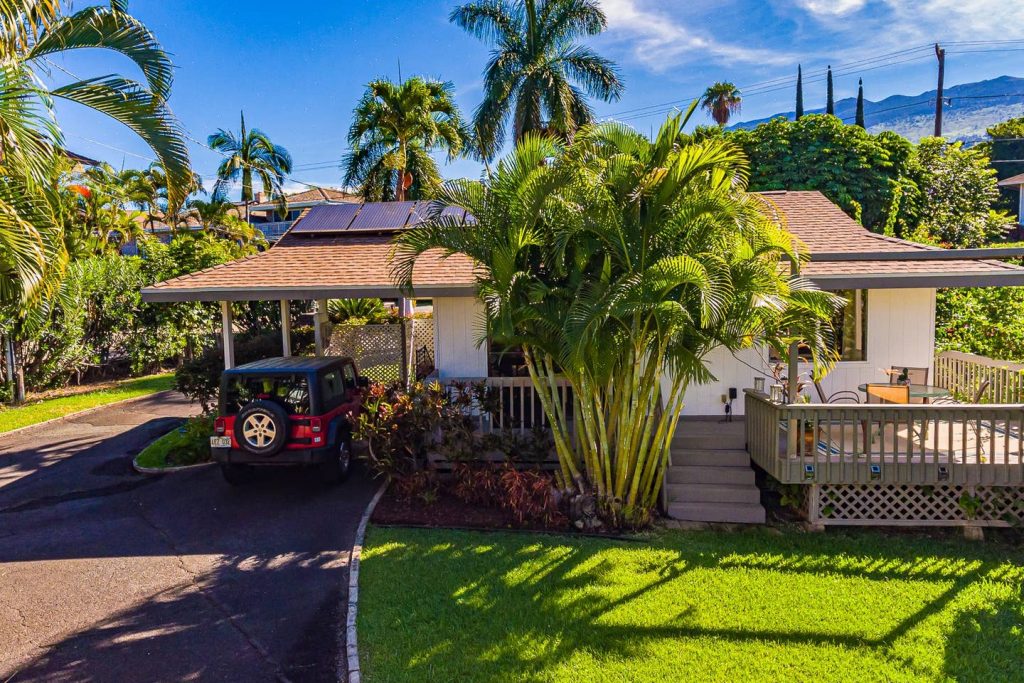 We are open! Call us to make a reservation.
Eva Villa Maui Bed and Breakfast is located in Kihei / Wailea on the sunny side of the island. Our home is nestled on a half-acre at the top of Maui Meadows in a quiet neighborhood where the days are warm, and the nights are cool. There are no streetlights so you can treat yourselves to beautiful evenings just perfect for stargazing. The grounds include many fruit and tropical trees and plants. There is also a waterfall.
All our guests are invited to enjoy use of the pool, barbecue facilities, outside teak tables and chairs.
Just minutes away are the white sand beaches of Kihei, Wailea, and Makena, known all over the world for their beauty and excellent snorkeling.
There are 3 championship golf courses within a 5 miles of Eva Villa ( Wailea Gold, Wailea Emerald, Wailea Blue).
We are only 5-10 minutes away from six major hotels with beautiful grounds and fine cuisine.
10 minute drive to Kihei shopping area with many shops and three large grocery stores.
"I have stayed at Eva Villa 6 times now, and every experience has been amazing. Rick and Dale are both wonderful people and give the utmost in care to their guests! They do all they can to ensure a safe and wonderful trip. Rick goes above and beyond to make sure that you are taken care of and settled in upon arrival, but does not stop there. He checks in during your stay to make sure that everything is taken care of and that you aren't in need of anything. He is quick to respond to any requests, and makes sure that you do not feel bad for asking or letting him know. I will continue to stay at Eva Villa every opportunity that I can! Thank you Rick and Dale for a wonderful experience, every time! " -August 2021
"Rick is such a wonderful man, he truly cared and made our trip special. This is the only place my wife and I are staying when we return. The property is beautiful, safe and secure and very comfortable. You won't find better pricing either, thanks Rick" – August 2021
"We just loved this place:) We were able to lock everything up and felt safe. The 5 minute drive to the beaches was great. We enjoyed a neighborhood feel with access to wonderful restaurants, shops, and beautiful beaches with out the crowds. The place provided sunshades, umbrella, and cooler that just added to our beach experience. The washer and dryer also allowed us to pack light and launder. This location is also perfect for a simple Safeway run. We sometimes just picked up lunch or dinner from here due to packed locations. Last, Rick and Dale will make you feel like family. They rock! Their cat is cute too:)" -July 2021